(scroll down for the original mic in tracks)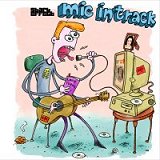 mic in track EP on Comfort Stand Records!
A five-song EP of my mic in track songs is available on Comfort Stand, free for download here or at archive.org in perpetuity.
Read this recent article (March, 2009) about the project.
A "mic in track" is a recording made on a PC using MusicMatch Jukebox, a music utility packaged with many new PC's that allows the user to record from the microphone input of the PC's sound card and save the recording in mp3 format. The default filename is "mic in track" followed by a number.
If that user also happens to be running a file-sharing program (WinMX, Audiognome, Kazaa, etc.), and shares the directory in which the mic in track is stored, then these personal recordings can be easily downloaded from the user's computer. The vast majority of them are either silent or uninteresting, but many are like Christmas presents giftwrapped in nondescript serial numbers. They represent unique examples of audio vérité.
The following songs are based on mic in tracks I have found.
Exuberant thanks to The Evolution Control Committee for discovering this phenomenon.
Think of Me (2:59)
CD dedication messages and other general greetings
Bunnyrabbits, Satan, Cheese and Milk (2:18)
Miriam's tastes are quite eclectic
See the video by Ceven Knowles ("ds_1").
I Miss You (4:31)
Love is a many-sampled thing
Testing 1-2-3 (3:05)
A 12-bar waltz using mic tests
Stop! I'm Watching TV! (3:16)
Recordings of sibling rivalry, and of kids being purposely annoying
Why Is My Sister Such a Dumbass? (3:20)
"She said that I would attend a lesbian school, when I'm clearly not..."
Dork (3:53)
You're a big dork, nobody likes you.
Eeples and Beeneenees (4:34)
Funky kid in the tub
14 (5:47)
The cruelty of children laid bare (explicit content)
Skipper (4:31)
This time she's going to finish what she has to say to you.
Tennis Ball (3:31)
Hear that? Hear that? Hear the bouncing? Beautiful bouncing.
One More Shout (3:49)
Rapper's demise
That Darn Bovine (2:12)
Hyperventilating child in a breakbeat roux
The Archaeopteryx (2:30)
It is a tooth bird
original mic in tracks
Ross & Jake made an entire album of songs made up on the spur of the moment-- here's their breakout single. (Page down for more tracks by these fellows.)
(Ross&Jake) Anything (4:16)
Stacey and friends talk about the weather, a dog named Skippy, and other important issues.
Captain's Log (3:08)
Here's another homespun rap artist on the verge of stardom, if only he could cop some flow.
Let's Go (3:27)
The lyrics to this song are pretty simple.
You Know I (1:13)
Two kids sing a little song for us, yeah yeah (yeah yeah).
I Wanna Go Out and Play Baseball (1:08)
Ranjit has his own approach to karaoke..
Ranjit Sings Shania Twain (0:59)
Ranjit Sings All-4-One (4:20)
Here's a very silly rendition of the "Sanford and Son" theme. 'Nuf said.
Sanford and Son (0:27)
More improvisational hijinks from Ross and Jake. Apparently Jake is a Guns 'n' Roses fan, based on his ringtone.
We're Going Platinum (Maybe Just Gold) (4:16)
This week's track features a bunch of guys hangin' out, drinkin' beer, playin' cards, singin' along to Styx and "The Doobs"... and talkin' 'bout their repressed homosexual desires a lot. Plenty of offensive language.
Boys Will Be Boys (20:05)
More examples of the "mic check" style of mic in tracks.
mic in track 01 (0:13)
Twelve Inches (0:13)
And Now I'm Moving In (0:34)
Someone plays along on the bongos to Blind Melon's version of "Three is a Magic Number"... and occasionally finds the beat.
Three is a Magic Bongo (3:07)
Two kids, Ross and Jake, made a whole bunch of mic in tracks of their own unique musical style. Here's the first in a series:
Ode to Ross and Jake (2:06)
Casey and Liz, two hormonal MTV-adoring teenage girls, bring us this week's tracks.
Hi Carson! (0:24)
What Does Larger Than Life Mean (0:18)
Stop Screaming at Me (0:17)
The Canadian national anthem isn't nearly as hard to sing as "The Star-spangled Banner," but some people still have trouble with it:
O Canada (1:34)
These two stream-of-consciousness MITs by "Crakhedd" come courtesy of fellow collector Andrew Lander.
Little Green People (4:54)
The Cheese-Eating Fool (3:17)
Hey kids, it's time for a singalong!
My Pet Rock (3:35)
Some anonymous girl, speaking WAY too directly into her microphone, gives us some stern warnings.
Stay Out Of My Bed (0:26)
A winsome acapella for the holiday season.
Home for the Holidays (0:40)
This week's tracks are from the same improvisationally-challenged fellow who brought us Where the Plum Pudding Goes and Why Is My Sister Such a Dumbass? Here he's playing a radio DJ, as well as a lethargic sidekick named Bill (or is it Bob?)
It's Christmas Eve Night (0:39)
W I Forget the Rest of the Letters (1:01)
This mic in track showcases a particularly intense spiritual exercise, complete with glossolalia.
Prayer (14:33)
This week's mic in track is a pleasant little ballad of unknown origin. All I know is that it has...
Three Chords (2:29)
This track shows that Brits have just as plebeian humor as Americans do.
Some Jokes (0:58)
A group of teenagers take us on a whirlwind tour of classic rock.
Jam Session (13:21)
Another mic in track in the "kids screwing around" genre-- this one features two teenage boys performing Sir Mix-A-Lot and Offspring songs while a third, named Mark, protests vehemently in the background.
Mark Was Not Part of This (2:03)
Jeff Graff does not wait any longer. Jeff Graff is more handsome and powerful everyday. Jeff Graff will write more complete sentences. Jeff Graff also speaks about himself in the third person... a lot...
Thanks to The Professor for submitting this mic in track. If you enjoy the audio files on this page, then you should definitely check out The Prof's radio show, "The Audio Kitchen" on WFMU, where each week he plays mic in tracks and other weirdly compelling bits of found audio.
Jeff Graff (8:16)
What kind of kid listens to Insane Clown Posse? This week's mic in track should give you an idea. They're so cute when they're menacing.
ICP Wannabe (4:33)
Here's a short mic in track of some kid pretending to be an air traffic controller, complete with sound effects.
The Pattern is Full (0:40)
This one is some sort of bitter-woman monologue. I also made it into a song.
Skipper (1:15)
This is one of the rare MIT's where the file was given a title (in the ID3 tag). It's a cover of the Dave Matthews Band song, "Warehouse," presumably by a guy named Pat, and it's not very good, but Pat's approximations of Matthews' vocal mannerisms make for a very entertaining listen.
Warehouse Pat Bad (4:09)
This is a rather amusing MIT from "JP," who also recorded Where the Plum Pudding Goes, one of the first five MIT's I posted. Here he ponders the question that burns in every young man's mind:
Why Is My Sister Such a Dumbass? (0:46)
Rappers are a dime a dozen in the mic in track world, and some are worth even less than that.
Heavy G (0:42)
Test Rap (0:25)
Marijuanyay (0:26)
Here's a rather explicit parody of LFO's hit, "Summer Girls," executed with the wit and subtlety that only adolescent boys can muster.
Hummer Girlz (2:31)
I have no earthly idea what this one is about. Some girl sings, speaks a little French, and plays an answering machine message.
Arret (1:29)
Sometimes phone calls and friends who want to borrow your guitar can be a little distracting.
It's Still Recording (1:41)
This track is an instrumental duet between a pianist and a trumpet player who hits most of the notes.
As The Deer (2:07)
These are two takes of an audio love lette, and made great raw material for my track I Miss You.
I Love You Holly (take one) (1:34)
I Love You Holly (take two) (3:37)
Sometimes when you're recording a love letter to your sweetheart, you need more than one take.
Hey There Sweetie (take one) (0:28)
Hey There Sweetie (take two) (0:45)
Would you buy a tennis ball from these kids? (sampled in Tennis Ball)
Shop for Shit (3:05)
OK... OK.. you've got to understand that this mic in track is...
A Work In Progress (2:11)
Two words...
DRUM SOLO!! (1:35)
Nothing illustrates the cruelty of adolescence better than this mic in track. In it, a teenage boy (with help from his friends) calls up his ex-girlfriend, who is 14 years old and already a mother, to brutally harass and berate her... and she stays on the phone for over ten minutes. It sounds like something out of a Larry Clark film, but it's all too real. Sampled in my song, also titled 14.
Warning: this track features a great deal of profanity and disturbing language. Probably the most unsettling thing about this MIT is that it even exists. The kid who recorded this obviously wanted to listen to it again and again... I have been hesitant to post this because of its content. Let me make it clear that I do not condone the treatment this girl gets, nor should anyone.
14 (10:42)
This track is a solo guitar version of the Kansas classic, with a surprise ending.
Dust in the Wind (2:50)
Just to prove that girls are not all sugar and spice and everything nice, I present these three mic in tracks as evidence:
K's Friends - Shut Up Bitch (0:23)
K's Friends - Last Night a Zebra Licked Me (0:14)
K's Friends - Goatfucker (0:22)
I give these mic in tracks a three-star recommendation, because I thought the mic in tracks made me feel like you wanted to keep listening (?) to them and you can't put them down.
Ken's Book Review, take one (0:42)
Ken's Book Review, take two (1:12)
Some mic in tracks are made as personal messages for mix CD's (like Kiss, featured previously); here's another good example:
Yo Shawn (3:16)
Here's another toe-tapper from the kid who brought you The Ice Cream Man is Fat and Willie Nelson (thanks to Jim Allenspach):
How Does It Feel (2:22)
Some more freestyle rap comin' atcha:
Lil Man (3:21)
I doubt that even a lion could sleep through this mic in track...
The Lion Sleeps Tonight (2:02)
Sometimes you just gotta do some...
Death Metal Warmup Exercises (0:35)
This week's track is a short, sad tale of extermination:
The Fly (1:30)
Take a couple teenage boys, a stapler, and the story of an epic battle, and you've got this week's mic in track:
Krusty and the Crazy Guy (1:28)
Here's a special Valentine's Day mic in track, thanks to Eric & Tommy. It's not particularly romantic, but what do you expect from a couple of third-rate Adam Sandler imitators?
Happy Valentine (3:24)
Here's a "party tape" mic in track, showing off some kid's freestyling skillz. Part of this was sampled in my track Stop! I'm Watching TV!.
Outkast... alright (1:52)
Many mic in tracks are microphone tests. I've got dozens of them (in several languages), but this one is my favorite.
This is a Test (1:12)
Why don't you just...
Back That Thing Up (2:22)
This week features two short songs by a young up-and-coming anonymous singer/songwriter who accompanies himself on pots and pans... well, either a pot or a pan, I can't really tell. Thanks to the Evolution Control Committee for finding these:
The Ice Cream Man is Fat (0:55)
Willie Nelson (1:57)
This mic in track is "sung" in Swedish; I think the title means "no to milk." Email me if you can translate whatever the hell is going on here:
Nej till Mjölk (1:41)
Duuuuuude, check out this mic in track. (Audio is left channel only)
We Smoked All My Bud Last Night (0:59)
A girl sings part of Dido's hit "Thank You" while accompanying herself on percussion, Wiggin-style:
Dido Meets The Shaggs (1:18)
Making fun of old people, Owen Hart, Auschwitz, The Wallflowers, the difference between being pregnant and being really really fat, "Dr. Quinn, Medicine Woman," and a penis with WARTS ON IT are just some of the elements of this bizarre, hilarious, and very profane rant:
Yogi DiMaggio (6:27)
Test your orthographic skills with...
Unit 21 Spelling Test (2:53)
This is a personal favorite. Two girls, while performing a Christian pop song ("Whatever Thing" by Waterdeep & 100 Portraits), are rudely interrupted by the family dog, but finish the song like pros. "Sure, that's a winner."
Take Me In Your Arms of Whoops (2:59)
Here's an example of a CD dedication MIT; in this one, Amy blows her friend Caroline a...
Kiss (4:00)
Another common mic in track subgenre is the "audio home movie." This one features a child singing while splashing in the tub.
Eeples and Beeneenees (1:34)
Here's an example of one of the most entertaining mic in track subgenres, the "party tape."
The Sexually Frustrated Blues (4:30)
Cover songs are a common theme among mic in tracks. In this case, it's a song by the Christian pop-punk band Slick Shoes, performed in two takes.
Note: unless you're Thurston Moore, damaging your guitar will not make you sound better.
Angel Without Wings, take one (0:14)
Angel Without Wings, take two (1:56)
Not all people who make mic in tracks are unaware that they're sharing their files. Here's proof:
Interview with Josh, age five (2:51)
For the inaugural week of this feature, here are five classics:
Limp Bizkit's Youngest Fan (7:41)
Where the Plum Pudding Goes (2:00)
Here's Daniel (0:18)
Le Football de College (0:51)